The six fortes

why Suzuyo Kogyo is chosen
Introduced by more than 1,000 companies
A pioneer in natto production equipment

The very first company in Japan in developing automated equipment for natto production with more than 50 years of experience and achievement.

Providing a comprehensive full-line service

By virtue of providing a comprehensive service from planning, designing, manufacturing, installing to maintenance, we are able to foresee the next process and pursue the quality.

Excellent integration ability as an independent multi-vendor

We are able to implement the most suitable and ideal combination of machines, utilizing their strong points case by case regardless of manufactures.

"One-stop" maintenance service

When a breakdown occurs, Suzuyo Kogyo Co., Ltd. is able to be a support counter for the repair of all kinds of machines.

Providing the best practice for natto production based on abundant experience and knowledge

Not only do we install machines but we also give complete guidance and trainings for production.

Realization of short delivery / starting up
a manufacturing plant in a short period of time

With abundant engineering logic based on longtime achievement, we are able to construct high-quality equipment in a short period of time.
If you have any challenges regarding food production,
please feel free to contact us
Suzuyo Kogyo's
Full-line Service
Suzuyo Kogyo Co., Ltd. is able to provide a "Comprehensive Service with One Step Approach"
01

Planning

Consulting, Product planning, Concept designing, Application procedure support, Support on selecting plant locations, Calculating return on investment, Product design

02

Designing

Field investigation, Machine selection, Reference drawings for construction, Layout plans for equipment, Creating work schedule, Providing trial calculations on personnel arrangement, Simulation

03

Manufacturing

Manufacturing machine, Developing automatic control devices, Maker control (delivery time/ quality), Contractor control (electricity, construction, and others), Quality/ Performance control, Building time/ work schedule control, Project management

04

Testing

Machine performance testing, Trial operation of machines, Production process combining testing, Tuning, Performance optimization, Machine configuration adjustment, Operation plan testing

05

Trainings

Creating manuals, Providing guidance on how to produce products, Giving guidance on quality control and hygiene management, Providing trainings on how to maintain machines, Creating training materials, Giving guidance on how to comply with regulations and ordinance

06

Maintaining

Performing machine maintenance, Conducting on-site maintenance, Videophone support, Performing an overhaul, Repairing/ Reconditioning/ Remodeling, Adjusting/ Tuning, Giving an examination on next equipment for remodeling
Suzuyo Kogyo's
Total Service
Total coordination of operation flow for natto production
Planning
Designing
Selecting Machines
Manufacturing and Installing
Production Guidance
Machine Maintenance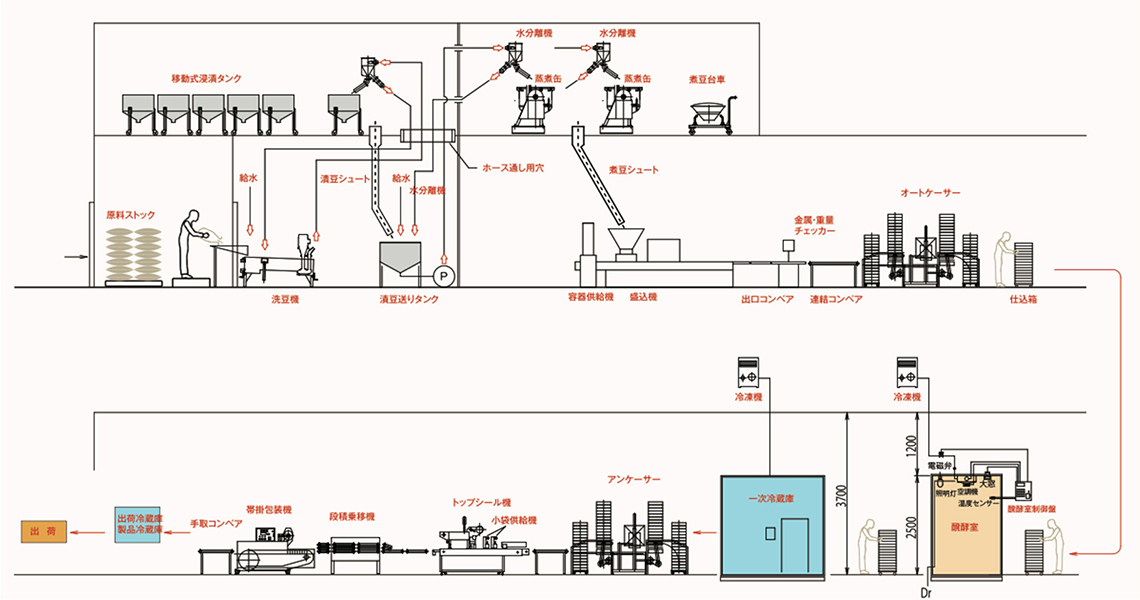 Raw Material Processing Equipment

Bean Washing and Soaking Equipment

Cooking Equipment

Fermentation Equipment

Packaging Equipment

Automated Lines
Providing knowhow on designing manufacturing plant and
the most ideal coordination on plant layout
Based on long year abundant experience and knowledge, Suzuyo Kogyo Co., Ltd.
provides the most effective and optimal plant layouts while maximumly taking the employees' operation route into consideration.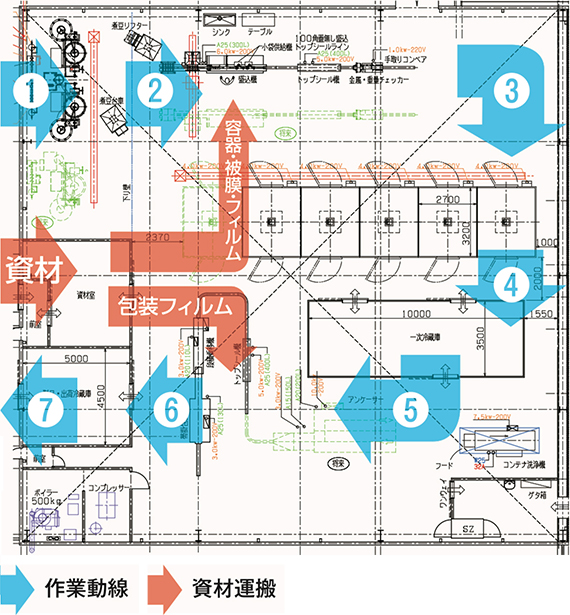 Example process for natto production

Bean Washing and Soaking

01

Feeding soaked beans into cooking pot, utilizing the second floor

Cooking

02

Feeding cooked beans from cooking pot to filling machine

Filling

03

Placing packed natto into fermentation chambers

Fermentation

04

Moving fermented natto to the primary refrigerators

Maturing

05

Conveying matured natto to the secondary packaging machine

Secondary Packaging

06

Placing packaged natto into the secondary refrigerators

Stock yard

07

Through docking terminal, the products are shipped by trucks